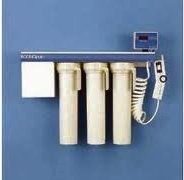 D4631
Barnstead E-PURE 3-Module System 120V
Retail Price : $6,428.00
Our Low Price : $5,592.36


---
This unit produced C.A.P. or NCCLS Type I quality water or better. The E-pure systems produce up to 3L/min. of Ionic, organic and bacteria free water. Virgin polypropylene water pathways prevent recontamination. One-quarter turn quick release filter housings allow for easy cartridge replacement. Positive O-ring seal on head-to-canister connection. Flat-bottom canisters stand on benchtop during cartridge servicing.

Includes solid-state digital purity meter that displays output water resistance from 0.01 to 18.3 megohm-cm with automatic temperature compensation to 25°C 77°F.

High gear ratio recirculation pump supplies ultrapure water without long rinseup, plus quiet operation.

Inlet temperature range, 4° to 49°C 39° to 120°F.

These systems can run on tap water but it is remended that you pretreat them with either reverse osmosis or deionized water.

Both models have maximum flowrate of 3 qt./min. 3.0L/min.,
1/4 NPTF inlet connection,
built-in pressure regulator;
operate on 120V 50/60Hz.
Includes
canisters,
digital meter,
pump,
6 ft. 1.8m of 1/4 in. O.D. flexible tubing for inlet and recirculation connections. Optional Organicfree* cartridge Cat. No. 09-034-175K lets you use E-pure systems for HPLC and other critical applications.

Can be used with optional remote dispenser accessory.

Note:Filter cartridges and final filter are not included.
---
Related Categories
See All :