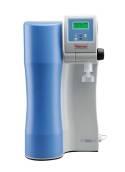 50131229
Barnstead GenPure UV TOC
Barnstead Genpure UV Laboratory Water Purification System With Total Organic Carbon Monitor. Provides Type I and Low Organic Ultrapure Water. Delivers lowest TOC water available)

Genpure systems come with filters.

Replacement Filters

These systems replaced the Barnstead Nanopure Diamond systems.
Retail Price : $0.00
Our Low Price : $0.00

Sorry, This product is no longer available. Please call for alternatives
---
Barnstead GenPure offers outstanding control, high-precision, and USP-complying conductivity measurement with temperature compensation that can be switched on or off. The Barnstead GenPure system delivers ultrapure 18.2MW.cm water with consistent quality for the most demanding and sensitive applications.
Operating Manual
Dispensing for a variety of tasks
Leak Detection
Integrated feed water monitoring
Online TOC measurement with UV intensity monitoring TOC Versions only
Real-time TOC monitoring for continual measurement of organic substances present in the water

Continuous monitoring of UV intensity removes the risk of false TOC values due to diminished UV intensityFault message alerts user when the UV lamp intensity is no longer sufficient for accurate TOC measurements
UV Photo-oxidation 185/254nm UV models only
High performance UV assembly reliably reduces the content of microorganisms and their metabolites

UV oxidation also reduces organic compounds in the water to ultra-low levels
Ready-to-use
Feed water pressure switch, wall bracket, UV lamp, ultrapure cartridge, sterile filter, all included in one part number

Leak detection standard and will alert user to leaks
Measurement of conductivity/resistivity
Conductivity cells are carefully calibrated prior to each measurement via built-in reference resistance with cell constants at 0.01 cm-1

Temperature measurements are made by a platinum chip sensor with ±0.1°C accuracy
Quick-connect cartridge replacement
Exact dosing
High precision POM draw-off valve for dispensing with sterile filter

Electronic dosing for fully automatic volume control of 0.01-65.0L with <2% accuracy
GLP-compliant documentation
Real-time clock and code-protected operating system prevents unauthorized changes to system settings

RS-232 interface with adjustable send interval for safe data transfer of all measured data, faults, date and time to a PC computer or log printer

Digital microprocessor control automatically monitors and stores faults from the last four weeks

USP-compliant conductivity measurement with temperature compensation can be switched on or off
Tilting Control Panels for Easy Viewing
Ergonomically designed controller tilts for ease-of-use and better visibility

Illuminated four-line alpha-numeric display
Compliance
All GenPure systems exceed international standards ASTM Type I, ISO 3696 Grade 1, ASTM D 1193 and CLSI.
Specifications

Flow rate, max.

Up to 2L/min.

Operating pressure min./max.

0.1 to 6 bar

Conductivity

0.055µS/cm

Resistance at 25°C

18.2M

w

xcm

Bacterial content CFU/mL

<1

Particles >0.2µM/mL

<1

Electrical Requirements

90-240V, 50/60Hz

Power consumption

0.1kW

Feedwater connector

3/4 in. NPT

Dimensions D x W x H

472 x 330 x 615mm 18.6 x 13 x 24.2 in.

Temperature min./max.

2° - 35°C


TOC and Pyrogen Reduction by System Version
| | | | |
| --- | --- | --- | --- |
| Cat. No. | Description | TOC | Endotoxins EU/mL |
| 50131956 | GenPure Pro ultrapure type I water system | 5 to 10ppb | — |
| 50131952 | GenPure Pro ultrapure water system with UV-photo-oxidation | 1 to 5ppb | <0.001 |
| 50131954 | GenPure Pro ultrapure water system with ultrafiltration membrane | 5 to 10ppb | <0.001 |
| 50131950 | GenPure Pro ultrapure water system with UV-photo-oxidation and ultrafiltration membrane | 1 to 5ppb | — |
| 50131948 | GenPure Pro ultrapure water system with UV-photo-oxidation and TOC monitor | 1 to 5ppb | — |
| 50131922 | GenPure Pro ultrapure water system with UV-photo-oxidation, ultrafiltration membrane and TOC monitor | 1 to 5ppb | <0.001 |
---
Related Categories
See All :